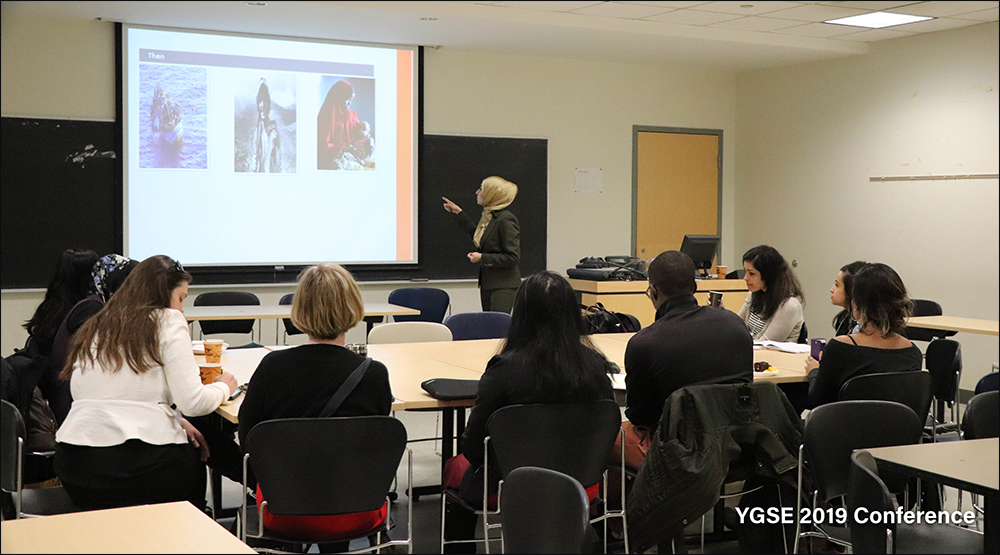 Graduate Student Newsletter – Week of January 30, 2023
Announcements
Reminder: Student Petition System –We are excited to announce that the Graduate Petition Portal is now open. Please visit our petition webpage to enter the portal and to find submission instructions:https://www.yorku.ca/gradstudies/students/current-students/regulations/graduate-academic-petitions/
Reminder: Room booking: Graduate students in Education who would like to use on-campus workspaces must pre-book, since space is limited. Students should not bring food or beverages to be consumed in the rooms, and must sanitize after use, using the materials provided. Masks must also be worn in the rooms at all times.

To submit a booking request, please email gradprogram@edu.yorku.ca, including the following information:

Your name
Your student number
The room number you would like to book
Your preferred date (e.g., September 24, 2021)
Your preferred time range (e.g., 9:00 to 10:00 am)

Students will receive a confirmation email. If the date/time is not available, alternatives must be mutually determined
Before coming to campus, students/visitors must complete the self-screening checklist
Before going to the room, students should report to the Graduate Program office upon arrival; students/visitors must sign in and provide contact information.

Reminder: Please always provide your full name and student number when sending email enquiries to the Graduate Program Office: gradprogram@edu.yorku.ca.
Reminder: Students can find answers to many of their questions as well as checklists for completing processes at updated Graduate Students' Guidebook.
Reminder: Students can find resources for everything in Graduate Program in Education at https://www.yorku.ca/edu/students/graduate-students/
Diploma courses will be available each term, but the core courses are usually only available in one of the three terms each year. 
REGISTRATION and enrolling in courses:

Students admitted to a graduate diploma, Master's degree program or Doctoral degree program must maintain continuous registration, including payment of applicable fees, in every fall, winter and summer term up to and including the term in which all requirements for their program of study are successfully completed.
If a course is full, please keep checking back online for empty seats until the deadline. If someone drops a course, a space will open immediately in the system.
Please be aware that only the Course Director can provide permission to increase the size of their class beyond the established maximum; fire code and social distancing in the room is also a factor.
Reminder: If you are unable to register for a term:
Option 1: Request a leave of absence (LOA). The LOA form can be found on the FGS Forms site (under "Student Affairs" & under "Registration"). Normally there will be a $169.49 plus $15.00 registration fee to be registered inactive for the LOA (lately, FGS has been waiving the fee during COVID, this waiving policy might change at any time). *Please submit the required documents and approvals to us in one email. *                                                                                                          
Option 2: Request a program withdrawal in good standing. The Withdrawal form can be found on the FGS Forms site (under "Student Affairs" & under "Registration"). Students who have withdrawn in good standing may petition for reinstatement within three terms (12 months) following a withdrawal. After that time, you must reapply to the program rather than reinstatement. Reinstatement into a program does not guarantee funding will continue as outlined in your original funding offer. *Please submit the required documents and approvals to us in one email*
Friendly Reminder: All graduate students must maintain continuous registration in all terms — Fall, Winter and Summer — until graduation, subject to the time limits stated in Current Students – Regulations, and must pay the appropriate term fee. You must register and accept your fees before the posted deadline (see important dates); late registration will result in a $200 late fee. Please visit Registrar's Office – Registration and Enrollment in order to register. You will need to sign into your Passport York account to complete your registration. Note: The Faculty of Graduate Studies does not require an enrolment deposit. By accepting your fees online, you are deemed to be registered. Students are expected to remain in the category of registration to which they are admitted unless a change of status is approved by their Graduate Program Director and the Faculty of Graduate Studies. A change of status for a term must be made prior to the start of term
Students should link their banking information to their student accounts for the ease of refunds on your student account.
 If you have passed your second term and are completing an MRP or Thesis, or if you are a Doctoral student and have passed your sixth term, please be sure to complete a Supervisor & Supervisory Committee Approval form and submit it to the graduate program office immediately. Please find further details on the checklists.
You can also refer to https://yublog.students.yorku.ca/blog/2018/05/31/enrolment-101/ for a video tutorial (It is from the Undergrad LA&PS site, but the steps are the same).
Attention regarding advertisement of final oral exam: Oral exams are normally a public academic event. However, if the student and the supervisor prefer not to have the exam public, they must inform the Graduate Office in Education upon submission of the Recommendation for Oral Examination form.
Convocation
The June (Summer) 2023 Convocation and application to Graduate is now open and the deadline to apply is end of April. Applications received after this date will not be accepted. The February (Winter) 2023 Application to Graduate is now closed. We are no longer accepting Applications to Graduate for Feb Graduation.
1st … If you are currently in the last term of your program and expect to graduate in June, you must apply online to graduate.
It is the student's responsibility to be sure they have met all the requirements to graduate prior to applying to graduate but if you are unsure of something please contact us gradprogram@edu.yorku.ca.  In addition, you must be registered as active to apply to graduate online and you must not be registered as active in the term you're graduating!
2nd … you must submit the following Graduation Confirmation MachForm
If you have completed all your degree requirements and then receive funding from the university in a subsequent term, it will need to be re-paid to the university upon graduation.
The Graduate Program in Education (GPE) Office will evaluate your eligibility to graduate (degree audit) during Mid-April and into May.

Read the "Graduate in June" document on our forms page for additional important details.

If you are enrolled in Winter term (Jan-Apr) courses: You must inform the course director(s) that you have applied to graduate, and request that your final grade (this can be an interim grade) be submitted two weeks prior to the April FGS deadline, in order for the GPE Office to process your graduation on time. The sooner you inform the course director, the sooner we can work together on getting your final grade posted on time.

Read the following "need to know" graduation/convocation information/links and graduating with a diploma information/links.

Your status will not be projected anywhere online, and we will only contact you directly if there are issues with your degree audit.
If you have applied to graduate and have not received an email from us during the audit process, you are all set to attend convocation (convocation may be cancelled due to COVID) and must go to the Convocation Website for further information on next steps and how to R.S.V.P.
If you are requesting to graduate with a Diploma be sure to follow the steps outlined in the "Graduate in June" document mentioned above … the "Convocation-Diploma" form and the "Diploma Checklist" indicated in the "Graduate in June" document must be completed and submitted to us, including email approval from the Diploma Coordinator, all together in one single email.
Diploma pickup for graduates who do not attend the June Convocation ceremonies will be available in July, at Registrarial Services; for location and hours of operation, please visit: https://currentstudents.yorku.ca/registrarial-services

Once your eligibility to graduate has been processed (approx. mid-May) by the Registrar's Office (RO), following our audit of your final Winter grades & degree requirements, your status will be reflected on your grade report and transcript and your name will appear on YU Verify as having been conferred.
Resources and Updates
Graduate Program Calendar: http://edu.yorku.ca/graduate-program-calendar/
Understanding your student account: The following link takes you through an overview that has been developed to assist you in navigating the various financial processes relevant to graduate studies. It is divided into 3 primary categories accessible through the tabs on the page:
Reminder for submission of all forms and to ensure they are accepted and processed:

Students are fully responsible for the download, completion, and submission of forms to their graduate program. Students must attach any correspondence that supports their request at the time of submission.
The Graduate Program in Education (GPE) office is unable to accept any incomplete forms, so be sure to have all required signatures (emails in lieu of) and required documentation in a complete package before submitting (hardcopy or email) any forms.
4. Graduate Program in Education Grad Student Guidebook: can be found on our site under current students/graduate
Events, Conferences and Workshops
Faculty's annual Black History Month event : Join us on February 8, 2023 for our annual Black History Month event WORD, SOUND, POWER: An Annual Celebration of Black Artistic Expression presented by the Jean Augustine Chair in Education, Community and Diaspora.

The Black History Month event spotlights Black cultural and artistic expression through performance, which this year includes drumming and dance, spoken word, a jazz ensemble, an R&B ensemble, The Toronto Gospel Choir and more.

An opportunity to highlight Black artists and creativity, the event will be open to the community and is free to attend. It begins at 5:30 p.m. with a welcome reception in the CIBC Lobby, Accolade East Building at the Keele Campus, and performances will run from 6:30 to 8:30 p.m. in the Tribute communities Recital Hall, Accolade East Building.

This is a free event and all are welcome to attend. Visit www.yorku.ca/edu/bhm2023 for details and to rsvp.

Learning Skills February Workshops and Services: Please see our Learning Skill workshops and services offerings here!
Employment/Volunteer Opportunities:
Please note: Information regarding employment opportunities is provided for your information only. York University does not pre-screen, review, endorse or approve employers or employment/volunteer opportunities, and is not responsible for any of the hiring processes or positions. If you have any questions about positions, please work with the employer directly.